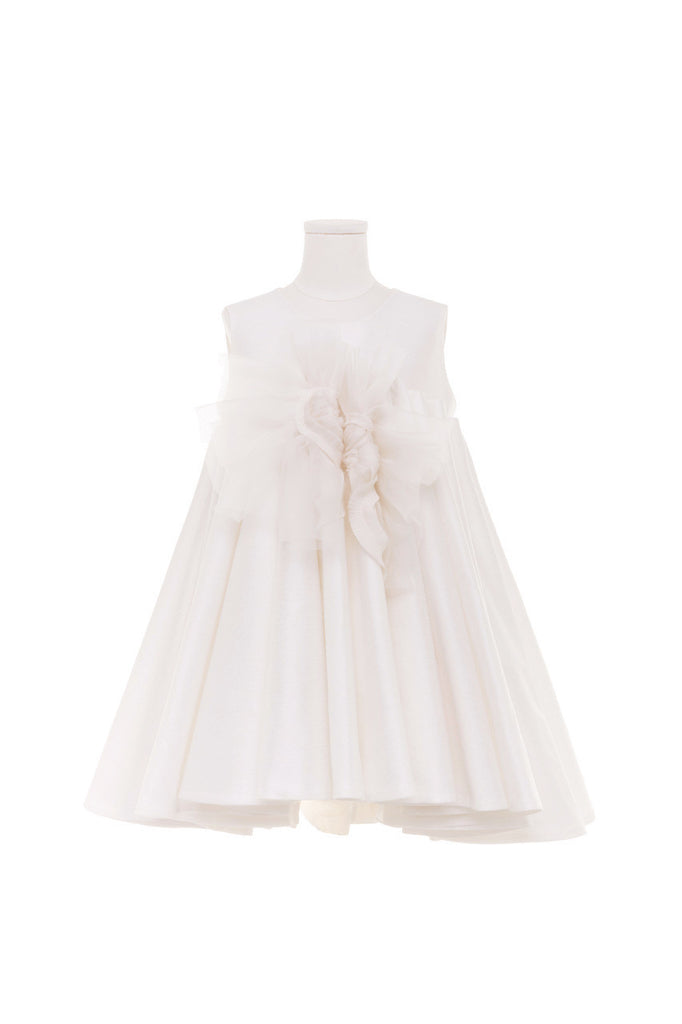 Little Miss Luk
Cinnamon
White shantung bodice with an empire A-line skirt created with stacked-up vertical cones. The skirt has a high-low hem and hidden pockets.
Basic version: $4,300 (XS,S,M) / $4,800 (L)
Enhanced with flower trim: $4,800 (XS,S,M) / $5,300 (L)
Enhance with embroidery: $5,100 (XS,S,M) / $5,600 (L)
___
Reference Size Chart
XS (8 to 20 mos), S (2-3), M (4-5), L (6-7)
Order Lead Time: 2 weeks
*Rush order and custom order available. Please contact us for more information.
Dress Measurements 
(front length) XS: 38.5cm, S: 46cm, M: 51.5cm, L: 58.5cm
___
Color Story: "Pure White"
Our roots come from bridal and our first little girl dresses were designed for flower girls, therefore weddings will always be one of our biggest inspiration.  Our 3-dimensional flower girl dresses are like Stars walking down the red carpet, sure to turn heads and grab every spectators' attention.  The white collection kick starts the perfect mood to any wedding ceremony.  Besides Weddings, the color of white is serene and pure, letting the structure of the design come through.  If you like your aesthetics clean, streamline and modern, the Pure White Shantung collection will surely remain one of your classics for any occasion. 
---
More from this collection