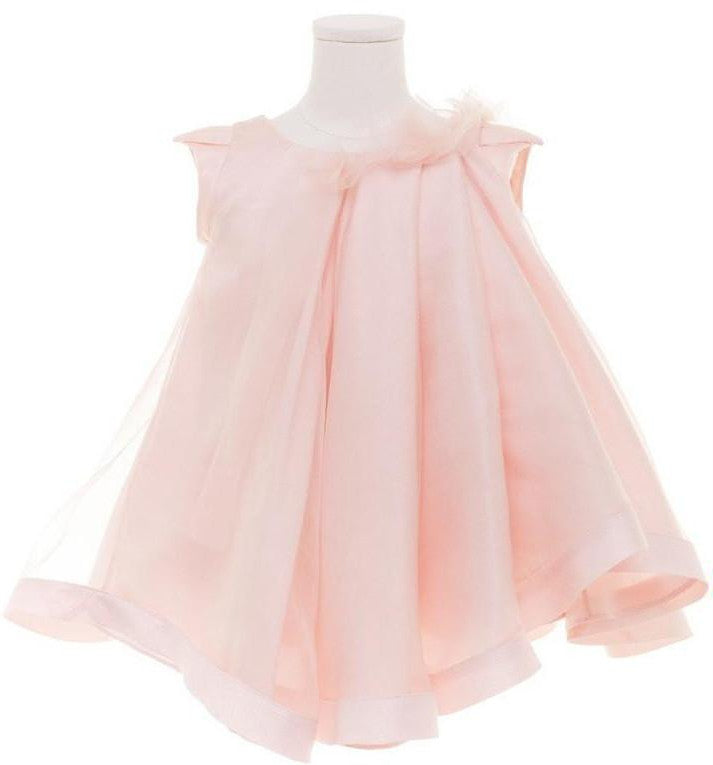 Little Miss Luk
Caramel
Powdered pink shantung tunic dress with deep pleats along the neckline and shaped capped sleeves.  It includes hidden pockets and a band trimmed along the cascading hem.
Basic version: $2,100 (XS,S,M) / $2,400 (L)
Enhanced with flower trim: $2,600 (XS,S,M) / $2,900 (L)
Enhanced with embroidery: $2,900 (XS,S,M) / $3,200 (L)
Photo shown is the enhanced version with flower trim
___
Reference Size Chart
XS (8 to 20 mos), S (2-3), M (4-5), L (6-7)
Order Lead Time: 2 weeks
*Rush order and custom order available. Please contact us for more information.
Dress Measurements 
(front length) XS: 38cm, S: 46cm, M: 52cm, L: 59cm
___
Color Story: "Pink Violet"
The Pink Violet group was created for the romantic little ones who want to be our valentine all year long.  It's to celebrate girl power in its most whimsical and romantic way.  After having my baby girl, I understood more about the power of pink and how it creates such strong memories and associations at our baby showers, at tea parties, at ballerina classes, on valentine's day, and who can forget uniting women together through breast cancer awareness.  Pink Violet is a group we want to create to symbolise giving back to the world and to always continue to care.   
---
More from this collection